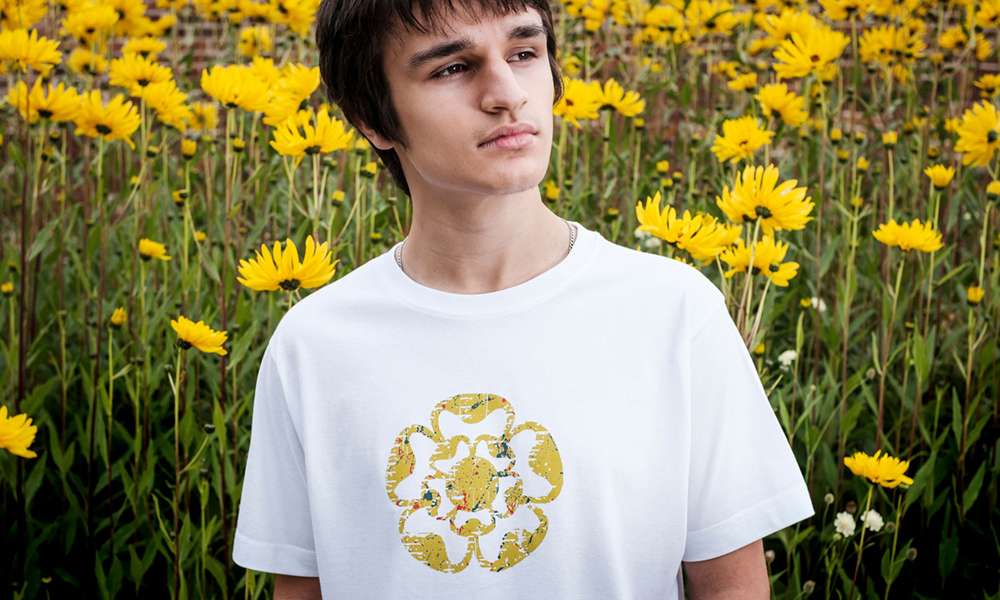 Homegrown Talent: Marseille Band Tees 
Always keen to support local Derby talent, we were thrilled to get on board with the up and coming indie band Marseille.  Formed during lockdown, this young band is already making waves and, with their talent, passion and all-round awesome sounds, it's not difficult to see why.  
Karl was initially asked to get involved through his graphic design business, Silver Birch Creative, to create a brand for the band.  Via a number of links and mutual contacts the band were aware of Karl's work and knew that he was the man to build a visual representation of their fresh, energetic sound.  "They're an incredibly talented group.  I loved what the lads were doing – and it's clear that they love it too!  It was a privilege to be able to support them.  I had a good chat to determine what they were after and what they stood for, and created a brand for them to take forward.  This was the starting point and since then I've designed their single covers … it was a logical next step to introduce Marseille to the MrShaw brand to create some band tees.  So much of what they do and what they believe is aligned with the MrShaw ethos – they influence others, take pride in what they do, and they're passionate about their hometown of Derby."
The design featured on the Marseille t-shirts is derived from some original artwork that Karl created during lockdown.  "Whatever else I do, I'm always an artist first and foremost.  During lockdown there was a lot going on – it was a difficult time for many reasons so, for some peace of mind, I went back to my roots and enjoyed the opportunity to create some art."  
The Pollock-inspired acrylic splatter artwork was created in two colourways, one yellow 'summer vibes' style, and the other a white, grey and orange fusion.  While these weren't formed with Marseille in mind at the time, when the idea of a MrShaw collaboration t-shirt cropped up, Karl knew instantly that his recent artwork would feature. "Original art for original artists; it just works.  The Pollock inspired art is reminiscent of The Stone Roses album artwork, and they're a big influence of Marseille.  It all ties in."
The brand that Karl designed for Marseille includes the Derbyshire rose, so the new tees are a marriage of the two – unique artwork captured within the Derbyshire rose, signifying Marseille and MrShaw's shared heritage. 
Available in the two original colourways, the Marseille tees are limited edition so don't hang around! Grab yourself a piece of history while you can, because these boys are destined for big things. Shop Now