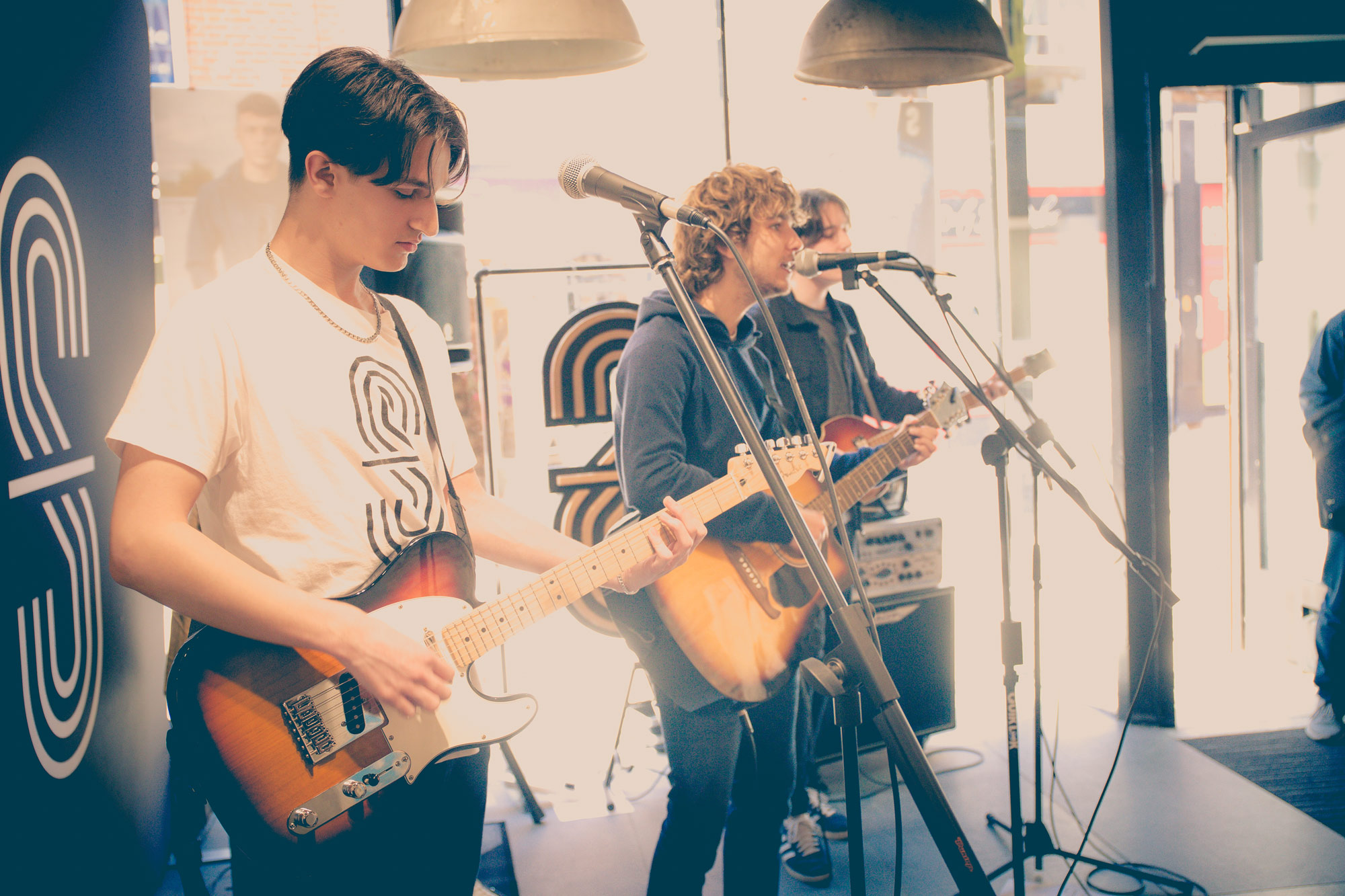 Karl Shaw, owner of Derby's very own fast-growing fashion label Mr Shaw was delighted to welcome emerging local band Marseille to Sadler Gate recently (Friday May 13th). 
Marseille launched their new EP 'Marseille 1' with a packed-out live session at Mr Shaw's pop-up shop, bringing much needed buzz and atmosphere to one of Derby's most famous streets.
Speaking moments after the performance, Karl said:
"I couldn't be any prouder of Marseille than I am already. Something big is happening for one of Derby's very own and I'm delighted to support them through my brand Mr Shaw and brand agency Silverbirch Creative."
Karl has supported the band through both of his businesses since early 2021, utilising his deep experience in brand and graphic design to produce the band's graphic identity. As a result, Marseille's visual look is steeped in Derbyshire iconography.
Speaking about his design approach with the band, Karl spoke of his pride for his local area:
"Where I'm from is very important to me and I'm always banging the drum for what's great about Derby and Derbyshire. With Marseille, I wanted to tie in the Derbyshire rose into their logo as well as running well known Derbyshire colours throughout their promotional materials and artwork."
Through Mr Shaw, Karl has collaborated with Marseille on a well-received clothing range, including the recently launched 'Seymour' Jacket. Named after the well-known bar on Cheapside, the jacket evokes memories of sunny summers at festivals for fans of Mr Shaw well-versed in the Britpop era. 
Those around then will also recall Sadler Gate and its old energy, something which Marseille's gig at Mr Shaw's pop-up shop brought back for an evening. Karl is keen to build on that energy and bring back some glory to Derby's famous old street:
"I and Mr Shaw are proud of our Derby heritage and constantly put it front in centre in what we produce. We want to bring the energy of the 90s back to Sadler Gate and be right at the front of reviving the area."
The band themselves are huge fans of Mr Shaw's clothing and that mutual love will see the release of a t-shirt called 'State of Mind' over summer. The song that inspired it is available to stream now.